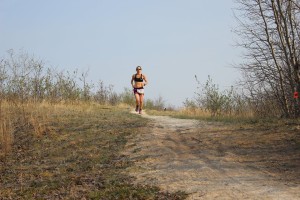 Time to spread a little love for the MORFIT members and staff who were a part of the Spruce Woods Ultra this weekend!
Congratulations Becky on completing the 50 mile distance. We've had some fun with Becky because she accidentally ran 7 extra miles, but she did great.  7 extra miles is a lot to add onto an already gruelling distance. Super good job sticking it out, Becky! Now we know you're ready for a 100 km race!
Also congratulations to Laura who completed the 50 km distance and to Arielle who did the half marathon!
Finally, a big shout out to Terry, Myrna, and Megan who volunteered making sure the racers were safe, hydrated, and fed out there on the course.  Hopefully you had as much fun as I did!
Well done, everyone!
-Tom