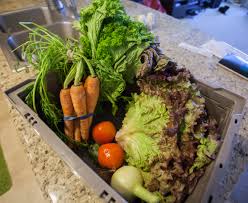 Buys Home Farm will be running its farm share veggie delivery service again this summer.
Starting in the first week of July and continuing for 13 weeks, they will deliver bins full of farm fresh veggies to the city every week. You just show up with your empty bin and exchange it for one full of fresh vegetables.
A small bin can be expected to feed two people and costs $330 for the 13 weeks. A large bin is more suitable for four people and costs $530. A refundable $20 bin deposit applies to both sizes.
The deliveries are made to different parts of the city, but one of their drop off points is in the parking lot behind our St. Boniface location! Sign up for your weekly fresh vegetable delivery by emailing farm@barefootprairie.ca.