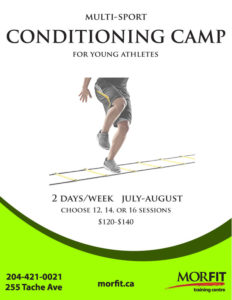 We're still hoping to run our Young Athlete Multi-Sport Conditioning Camp again this summer. Unfortunately, getting the downtown location ready took up a lot of our energies and we haven't done a good job of promoting the Conditioning Camp. We are pushing the start of the camp back to mid July in hopes that we can get the word out this week and get enough participants to run the program!
The Young Athlete Multi-Sport Conditioning Camp is an athletic development program for teenagers. We have two one hour sessions every week: Tuesdays and Thursdays at 10am. The athletes work to develop and improve speed, agility, quickness, strength, conditioning, coordination, stability, team play, cooperation, and leadership skills.
It is important for youths to develop confidence and competence in as many different movement patterns and skills as possible. This "physical literacy" enables them to participate in a huge variety of sports and physical activities and develops the foundation for active living throughout their entire lives.
For youths that have already begun to specialize, practicing different movement patterns and skills helps to decrease the risk of overuse injuries and provides a much needed physical and mental break from their primary sport.
We will run the camp for 8 weeks between July 11 and August 31. That will make 16 sessions. You can choose to register for all 16, or you can register for 12 or 14 – you choose which of the sessions to attend.
Call or visit the gym to register!
16 sessions – $140
14 sessions – $130
12 sessions – $120