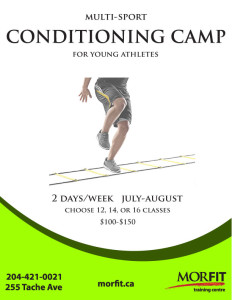 MORFIT is running a multi-sport conditioning camp for young athletes this summer and so far it's been a blast!
Lisa and Tom put the athletes through drills and exercises to improve their overall athleticism and to reduce their injury risk.  Specific attention is paid to speed, agility, and quickness; strength; safe, effective exercise technique; conditioning; and developing athletic movement patterns.  The group meets every Tuesday and Thursday at 10am during July and August.
Participants can sign up to attend 16, 14, or 12 classes, so it's not too late to register!
Contact the gym for more information.