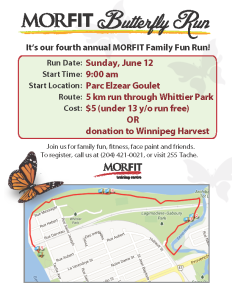 Our 4th annual Butterfly Family Fun Run is scheduled for June 12! (Click here for poster) We're pretty excited that there might actually be butterflies on the course this year! Feel free to wear your wings as well.
The Butterfly Run is a family friendly 5km "race" that takes you out and back through Whittier Park. We add some obstacles/fitness challenges for the more adventurous runners, but the rest of the family should feel quite comfortable on the course, too.
Cost is $5 (under 13 years old run free) OR a donation to Winnipeg Harvest. Call MORFIT or come by the gym to get registered.