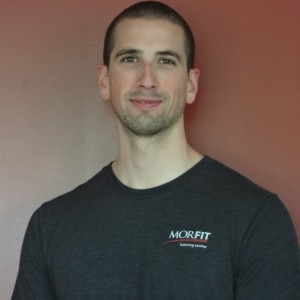 With a clear drive to share his passion for health, fitness and wellbeing, founder and fearless leader Stuart Klassen, opened MORFIT Training Centre in December 2011.
In 2009, Stuart completed his Exercise Science degree at the University of Winnipeg. During this time, he certified as a Personal Trainer through the Canadian Society for Exercise Physiology (CSEP-CPT). Striving to reach a further diverse population, Stuart upgraded his certification to Certified Exercise Physiologist (CSEP-CEP), enabling him to train all populations: healthy and those with chronic health conditions.
Stuart has been training clients since 2009, and has worked with a wide variety of populations including: clients seeking weight loss, sports teams, marathon runners, muscle builders, clients looking to manage their diabetes, cerebral palsy, arthritis… and many other perfectly unique clients. He has worked as a consultant for coaches in various sports, the City of Winnipeg, and Princess Auto.
On the off chance Stuart leaves the gym, you can find him playing and coaching his own Ultimate team, the Sweaty Kumquats! He also enjoys playing guitar, spending time with family and reading. His personal goals are ever changing, from performing handstands to a true one-arm chin-up to running the 2014 Manitoba marathon.
Opening MORFIT has given Stuart the opportunity to take training in the direction he feels most comfortable. He is very particular when designing programs for clients. Every person is unique and he considers lifestyle habits, personal traits, body type, and the likes and dislikes of each client when creating programs. Stuart continually modifies workout routines and monitors progress to ensure his clients receive the most personalized program to meet their goals.
Through MORFIT, Stuart's dreams have finally come to fruition!
 Boot Camp, Older & Stronger, Spin, Group Strength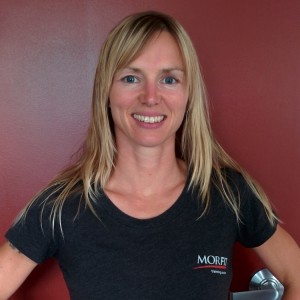 Becky, group trainer and full-time mother, devotes most of her energy and time to her three beautiful children, ages two, four, and six. Making the move from England in July 2011, Becky has been with the MORFIT family from Day 1.
Becky has been in the leisure and fitness industry since 1997. She has worked in large chain fitness centers like Fitness First and smaller privately owned gyms in the UK and around the world. In her travels, she found Australia in particular to be a fantastic place to work in the fitness industry!
Her experience has primarily been as a Group Fitness Trainer, however other roles include Studio Coordinator, Head Trainer, Personal Trainer, Running Coach and administrative positions.
Averaging two full marathons a year and one Ultra marathon, long distance running is Becky's passion. She even ran the Berlin Marathon at five months pregnant! Always looking to the next challenge, she is running a 24-hour Ultra marathon this October and is hoping to complete a triathlon in the near future. Her ultimate goal is to complete a full Ironman!
Working in fitness has always been an obvious career choice for Becky; she is very passionate about keeping fit and sharing her knowledge with others.
Becky is always happy to help advise anyone who is willing to learn, especially if it's about running or fitting health and fitness in with a busy lifestyle, kids and family included!
Come join Becky's Spin classes Tuesday and Saturday during the colder months!
Classes: Spin – 6:00 pm Tuesdays, 10:00 am Saturdays
HIIT – 9:00 am Saturdays
MORFIT Running Group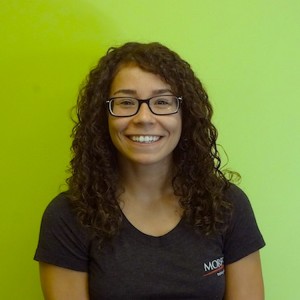 Using her athletic background, Anna has coached kids and teens in soccer, track, basketball, dance and currently coaching gymnastics at Fantastic Gymnastics and fitness classes here at MORfit (Bootcamp 6am)
Anna has been an athlete for all of her life, participating in soccer, volleyball, badminton, basketball, Bison Cheer and exceling Dance and Track & Field (100m, 400m and medley).
Currently you can find Anna on the sidelines flying high with the Blue Bomber Cheer Team and on the mat with Manitoba Mayhem Cheer- Choas
Challenging but keeping fitness fun
Classes: Bootcamp – 6:00 am Monday/Wednesday/Friday
Older & Stronger – 10:00 am Monday/Wednesday/Friday
Lisa Smyrichinsky
Desk, Trainer, Class Instructor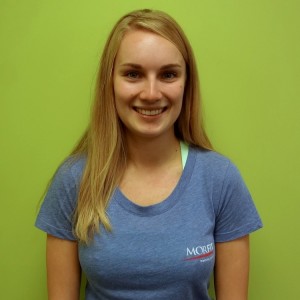 Lisa graduated from the University of Winnipeg with a Bachelor of Science
in Kinesiology (Athletic Therapy) in 2015. She then went on to certify as
an Athletic Therapist and holds the designation CAT(C).
Physical activity has always been a passion of Lisa's and it began with her
involvement in rhythmic gymnastics at a young age. After years of competing
at a Provincial level, Lisa went on to become a national level coach and
judge. She still loves staying involved in the sport and watching it grow.
Lisa has ample experience working with the athletic population. She acted
as the student athletic therapist for the University of Winnipeg Wesmen
Woman's Volleyball team, West Kildonan Collegiate's Football team, Manitoba
Soccer Association, and the St. Vital Victorias MMJHL hockey team. One of
her most exciting internships was at Winsport Medicine Clinic in Calgary in
which she had the opportunity to work with Olympic level athletes.
In her spare time, Lisa loves to expand her understanding of the world
through traveling. Whether she is exploring a small town in Italy or
trekking through the Himalayas, she is always looking forward to her next
adventure!
Classes: Bootcamp – 6:00 pm Mondays
Kristin Haight
Desk, Trainer, Instructor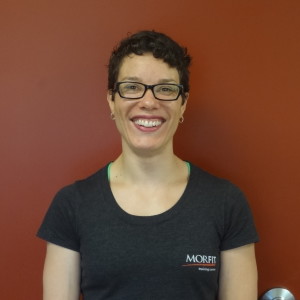 Kristin's approach to fitness is born from 28 years of dance training, including a 15 year stage career as a professional contemporary dancer. She has worked, collaborated and toured across Canada and abroad with many companies including Winnipeg's Contemporary Dancers, Ruth Cansfield Dance, NAfro Dance Productions, as well as independently with high profile choreographers. Kristin can be seen in films by Dominique Rey, Alain Delannoy, and was a key collaborator and featured solo performer in Danielle Sturk's  A Good Madness: The Dance of Rachel Browne, which has screened at film festivals across Canada, as well as on CBC and MTS Stories From Home. She excelled in Track and Field events (long jump, triple jump and 100m) before making a full time commitment to pursuing dance.

Education:

University of Winnipeg affiliated with:
The School of Contemporary Dancers Senior Professional Program
– Bachelor of Arts with Honours, Specializing in Dance with Human Anatomy / Kinesiology /  Sport Psychology / Nutrition
Canadian Red Cross
– Emergency First Aid / CPR / AED Level C
Manitoba Fitness Council
– Resistance Training Certified
– Individual Fitness Leader
Kristin has been a well respected instructor in pre-professional & professional level dance technique and conditioning, as well as rehearsal director, stage manager, & performance coach for professionals as well as students. The joy of witnessing her students grow as artists and athletes prompted her desire to help a broader scope of humanity reach their fitness goals. In addition to group classes at MORFIT, she instructs Strength Classes to employees of Princess Auto. Kristin is the owner/operator of FLUID MUSCLE: fitness training, choreography, posing & movement for bikini & bodybuilding competitors, dancers, and the general public.

Classes: Bootcamp! – 6:00 pm Wednesdays
                   Fluid Muscle – 1:00 pm Mondays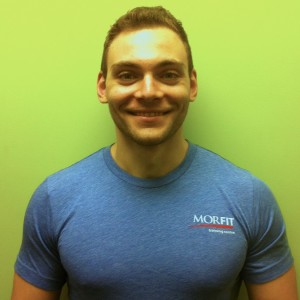 Whether it's fitness or food, Antoś is the very definition of intensity!
Antoś has been physically active since his early teens. He's participated in a variety of sports, including wrestling, rugby and the Blue Bomber cheerleading team. In the future, Antoś plans on competing in men's physique and natural bodybuilding as well as becoming a CSEP-Certified Exercise Physiologist.
FOOD! Especially ice cream, sushi, burritos and steak! Antoś likes spending time with his family and friends, traveling, soaking up the sun's rays at the beach and taking his furry friend Snoopy to the dog park. Also, a good game of billiards or cribbage is always welcome!
Upon graduation, Antoś plans on traveling to France to learn the ins and outs of French cuisine!
:
"If your pursuits don't challenge you, they won't change you."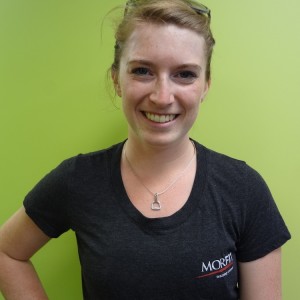 Often described as an "adventure", Kathlyn brings diverse experience to the gym and always has a story to tell.
Using her athletic background to her advantage, Kathlyn has years of experience as a coach in a variety of sports and has recently began teaching fitness classes through the University of Winnipeg (fitness for older adults) and here at MORfit (Functional Training and Conditioning). With a love for teaching and helping others challenge themselves, Kathlyn looks forward to continuing to build her experience in the strength and conditioning world.
Kathlyn has been an athlete for most of her life, participating in soccer, cross country running, volleyball, basketball, badminton, curling, and track and field (discus and long jump). She has also been training and competing as an equestrian athlete (hunter/jumper) and currently this sport remains her biggest focus. Over the last few years she has been privileged to compete at a provincial and national level, and has plans to continue achieving her goals within riding. Competing in a Modern Pentathlon is also on Kathlyn's bucket list (running, shooting, swimming, fencing, and show jumping).
Combining her love of her sport and love of education, Kathlyn has been able to begin research into biomechanics and specific strength training for equestrian athletes. This is something she continues to work on, and looks forward to seeing where it can take her in the future as an athletic therapist. If she isn't at the desk or at the barn, Kathlyn can be found working on her yoga practice, running on any number of trails, swimming, or in the gym lifting weights.
No body is the same- there is no cookie cutter approach to training or fitness!
 Functional Training and Conditioning
Tom Christensen
Fitness Engineer, Trainer, Class Instructor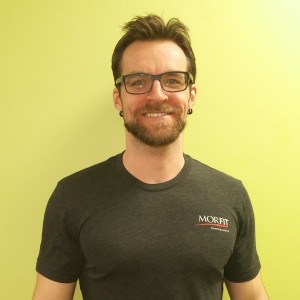 Tom earned his Bachelor of Science Degree in Exercise Science and Applied Health from the University of Winnipeg and became a CSEP Certified Personal Trainer in 2013. He has been teaching fitness classes and training clients since 2012.
Tom has worked as a personal trainer, exercise class instructor, and Registered Kinesiologist at a number of different fitness and physiotherapy facilities in Manitoba and Ontario and is a lab instructor in the Kinesiology department at the University of Winnipeg.  He loves to share his passion for health and wellness with members, clients, and students.
Tom dedicates a lot of time to expanding his skills and knowledge as a Kinesiologist in order to develop and progress individualised, enjoyable programs that meet clients' and participants' ability levels and help them achieve their goals. His biggest reward is watching people develop confidence in life, proficiency in moving their body, and a positive relationship with being healthy and active.
Tom likes to cook, eat, play sports, play outside, read, and play music.
Classes: Strength – 12:05 pm Tuesdays & Thursdays
Nikki Smith
Instructor (CRAVE), Trainer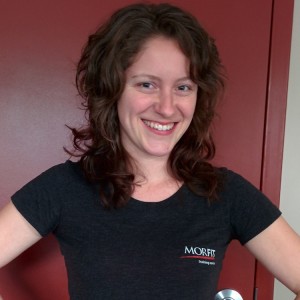 With an intense passion for music and movement, Nikki blazed into the fitness world and into MORFIT Training Centre!
Nikki's contagious passion for movement comes from eight years as a professional dancer and instructor.
Since she certified as a trainer in 2012, Nikki has inspired an eclectic mix of clients, including: office personnel, dancers, individuals with mobility restrictions, and high school and university level athletes. As a Certified Athletic Therapist, she applies her knowledge and experience in physical assessment and rehabilitation to her program design.
When she isn't prancing around the gym, Nikki is usually eating sushi! During the summer months, she heads out to the cabin as often as she can to water ski and enjoy the sun.
Nikki believes every goal and ambition is personal and unique. As a trainer, she ensures clients not only meet their goals, but take the journey alongside someone they feel comfortable with. When working with clients, Nikki's passion for movement is apparent and often contagious! Spontaneous mid-workout groove sessions have been known to occur!
After graduating with a Bachelor of Science (Kinesiology) in 2012, Nikki completed her Personal Training Certification with the Canadian Society for Exercise Physiology. While working as a personal trainer and fitness instructor, Nikki continued practicing Athletic Therapy and successfully completed the certification exams in June 2014. While working full-time as an Athletic Therapist at MORFIT, Nikki also spends time instructing rehabilitation in the lab at the University of Winnipeg.
Nikki believes that everybody and  has a story and they're all different, requiring a personalized approach. As a former dancer, Nikki has a deeper understanding of pelvic and core dysfunction and the way it can manifest outward to the rest of the body.
Her continuing education and treatment tools of interest include: Soft Tissue Release, Selective Functional Movement Assessment, trigger point therapy, myofascial cupping, and acupuncture.
In the clinic, Nikki works with a variety of clients, including general public, MPI and WCB claims, pre and post surgery patients, and university level athletes. In the field, she has worked with high school level track & field, hockey, volleyball, basketball, swim teams, and the University of Winnipeg Wrestling team. Additionally, Nikki has been Head Therapist for the Clansmen Football Team five years running.
You've probably seen Nikki behind the desk, personal training or teaching one of MORFIT's cardio-dance classes.
To book an appointment, please call Nikki at (204) 223-7358 or email Nikki@morfit.ca.
Classes: CRAVE – 7:00 pm Mondays
Patrick Tremblay-Sabourin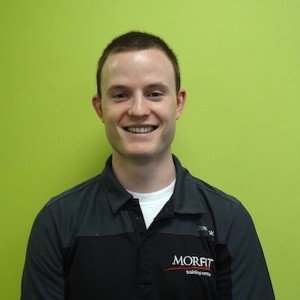 I graduated from McGill University with a Bachelor of Science in Nutritional Sciences and became a Registered Dietitian in 2011. Through my schooling I was very fortunate to have internships that allowed me to work with athletes, infants, adolescents, adults, and the elderly population. These experiences enabled me to provide the best nutritional care for people with various chronic or acute illnesses.
My approach focuses on providing the necessary tools and resources that enable clients to make healthy nutritional choices. I am fluently bilingual and capable of conducting interviews and giving nutritional recommendations in French and English.
On a side note, I have been doing judo for the past 16 years of my life. As a competitive athlete my nutrition knowledge has allowed me to eat properly pre and post competition, which led to some very positive results in my career. Aside from judo I always like to try new sports and enjoy cross country skiing, surfing, ultimate Frisbee, hiking, and running.
I look forward to meeting with new clients that are ready to optimize their nutritional health.
To book an appointment, please call Patrick at (204) 963-3151 or email Patrick@morfit.ca.